Multi-Parameter Mass Flow Meters & Mass Flow Controllers for Gases
The d·flux multi series is a fast and reliable multi-parameter mass flow meter for gases with measurement outputs for mass, volumetric and normalized flow, pressure and temperature. One of the many advantages of this laminar flow meter is the ability to easily switch to a different gas without a loss in accuracy.
Why do we see more and more Bluetooth® configuration tools in flow meters and do they work?
Modern flow meters get smarter and have more options, that need to be configured, selected and tuned. To build all "configurating" in the PLC is not effective, in general we use separate software for that, often under MS Windows®.
Bluetooth® and an Android app are convenient and do not need any cables. Most people have their phone with them most of the time.
The Vögtlin d·flux multi gas flow meter and controller is configurable over Bluetooth® with an intuitive app. No need to study manuals for hours and it is free of charge. Have a look at our flow meters and controllers from 1 mln/min to 1400 ln/min. We have convenient solutions that are affordable! The Vögtlin Connect App is free of charge and can be downloaded from the Google Play store.

The new Vögtlin Connect App
Device parameters that can be controlled with the Vögtlin Connect App:
| | | |
| --- | --- | --- |
| Bluetooth readable / adjustable variables | Read | Write |
| Create & edit profiles (set of settings) | YES | YES |
| Flow range & dynamic range | YES | YES |
| Filter settings | YES | YES |
| Alarms and warnings | YES | YES |
| Analog in/output configuration | YES | YES |
| Function of push button* | YES | YES |
| Read current values | YES | |
| Show Graphs | YES | |
| Totalizer (read, select, reset) | YES | YES |
| Node / slave address setting | YES | YES |
| I/O for external valve on / off | YES | YES |
| Restart device | | YES |
| Password protection of unit | YES | YES |
| Factory reset | | YES |
| PID and valve parameters | YES | YES |
* The external push button on the device can be programmed for one of the following functions: Device restart, measurement on/off, warning reset or tare (long press). Activation/Deactivation of Bluetooth® connection (short press).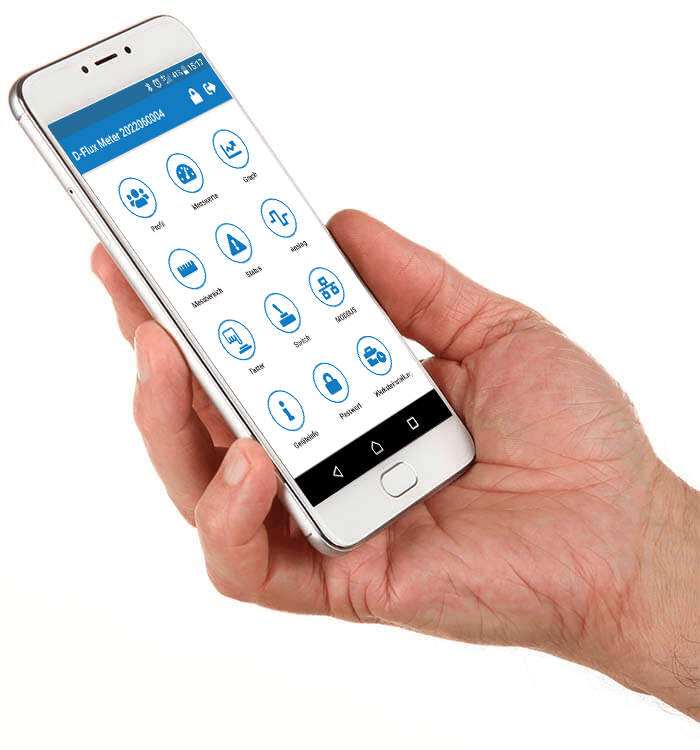 Downloads d⋅flux multi series
| | | | | | |
| --- | --- | --- | --- | --- | --- |
| | d·flux multi series Product Information | Product Datasheets | | | |
| | d·flux multi series Operating Instructions | Operating Instructions | | | |
| | d·flux multi series Quick Start Guide | Operating Instructions | | | |
| | d·flux multi series Operating Instructions EtherCAT | Operating Instructions | | | |
| | d·flux multi series Operating Instructions Profinet | Operating Instructions | | | |
| | d·flux multi series Service Tool with Firmware Update 1.0.4 / WIN | Software | | | |
| | d·flux multi series Profinet GSDML Files | Software | | | |
| | d·flux multi series Gas List | Others | | | |
| | Tri-Clamp Fittings | Accessories Datasheets | | | |
| | d·flux multi series Declaration of Conformity CE | Certificates/Statements | | | |
| | d·flux multi series Declaration of Conformity UKCA | Certificates/Statements | | | |
| | | | | | |