Repeatability & Process Optimization for Spray Dryers
Spray drying is a method to produce a dry, fine (free flowing) powder from liquids, suspensions or emulsions. The process is widely used in pharmaceutical, food and chemical industries. Pharmaceutical spray dryer plants, for instance, convert liquid into powder medicine.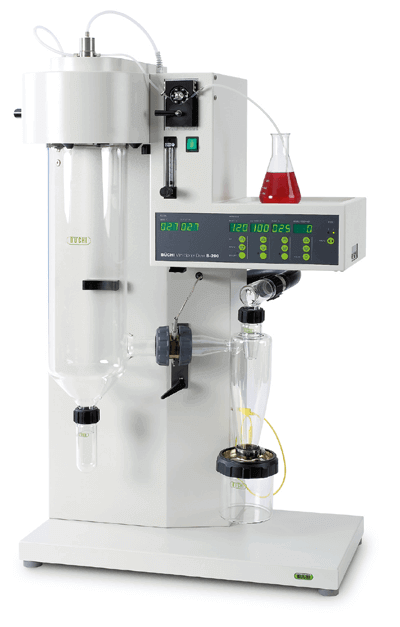 Mini Spray Dryer B-290 from Büchi with a built-in Vögtlin variable area flowmeter / Courtesy of BÜCHI Labortechnik AG, Switzerland
Application
Spray drying is a technological method of producing a dry powder from a liquid or slurry by rapidly drying with a hot gas. This is the preferred method of drying of many thermally-sensitive materials such as foods and pharmaceuticals.
A consistent particle size distribution is a reason for spray drying some industrial products such as catalysts. Air is the heated drying medium; however, if the liquid is a flammable solvent such as ethanol or the product is oxygen-sensitive then nitrogen is used.
In most cases the air is blown in the same direction as the sprayed liquid (co-current) and a fine powder is produced. Various technologies are used in the spray drying process: Pressure nozzle atomization, two-fluid nozzle atomization and centrifugal atomization.
Challenge
For most spray drying systems, variable area flowmeters (VA-meters) with manual control valves are used. If inlet pressure prior to the manual valve changes, the gas flow becomes unstable. This creates non-repeatability and non-conformity in particle size of the process.
Solution
MEMS technology of the mass flow controllers (MFCs) provides for a 500ms rapid response. Plug-and-play functionality and no warm-up periods improve user productivity.
Vögtlin MFCs have a unique way of compensating for changes in ambient and gas temperature, which strongly improves the repeatability. The MEMS technology ensures a long-term stability without any drift.
The digital MFCs also allow to automate the process with the use of a digital control system. Gas flow readings are taken 3 times per second and can be stored using data logger software. Traceability of production can be guaranteed.
Key Features
High repeatability & reliabilit
High turndown ratio
Long-term stability
Short response time
Safe and fast control
Compact unit with high-quality components
Interfaces
Analog
Modbus RTU
Profibus DP-V0/DP-V1
Profinet
EtherCAT
Recommended Products: