Which flow units are available (red-y compact series)?
For the digital massflow meters red-y compact series a wide choice of flow units is available.
Choose between a large number of standardized and normalized flow units of the Imperial, US customary and SI measuring systems (with user adjustable reference conditions).
The units are selectable from the integrated menu both for the actual flow and the totalized flow.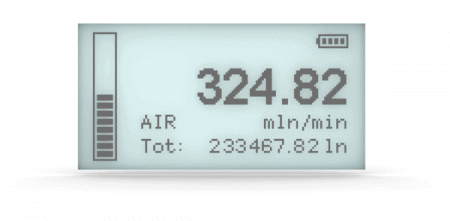 Overview of available flow units:
| Flow | | Totalizer | |
| --- | --- | --- | --- |
| Standard & Norm | Others | Standard & Norm | Others |
| mln/s | mls/s | mln | mls |
| mln/min | mls/min | ln | ls |
| mln/h | mls/h | m³n | m³s |
| ln/s | ls/s | g | sl |
| ln/min | ls/min | kg | l |
| nlpm | slpm | lb | cc |
| ln/h | ls/h | | scc |
| nlph | slph | | scf |
| m³n/h | m³s/h | | |
| g/s | sccs | | |
| g/min | sccm | | |
| g/h | cc/s | | |
| kg/min | cc/min | | |
| kg/h | cc/h | | |
| lb/min | l/s | | |
| lb/h | l/min | | |
| | l/h | | |
| | scfm | | |
| | scfh | | |