Software get red-y error message: Unsupported firmware
Reason: Factory red-y smart firmware update from 6.0.12 to 6.1.08
Due to the product launch of red-y smart with Profinet/EtherCAT, the firmware of the measurement and control devices was adapted.
Devices delivered with the current firmware 6.1.08 receive the error message 'Unsupported firmware' when connecting to the get red-y Version 5.6 software.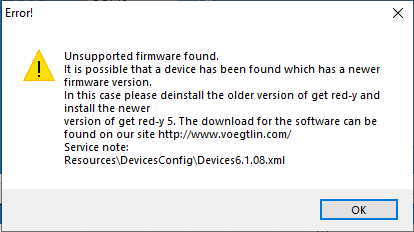 This can in some cases lead to functional problems. Updating to software get red-y version 5.6.0.1 will fix these problems. The current version of the software can be found in the download area of www.voegtlin.com.
Download and install current software get red-y V5.6.0.1:
https://www.voegtlin.com/data/329-3017_ml_getredy.zip