Inspection of engine components for blowholes in cooling water and oil ducts
In order to ensure consistent quality in the production of injection molded parts for engine construction, it must be ensured that there is perfect flow through the channels.
The given test pressure and the measurement of the flow provide information about the quality of the component to be tested.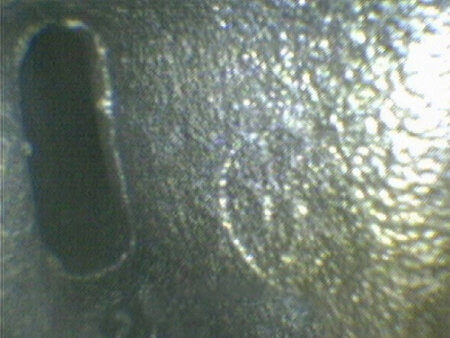 Good part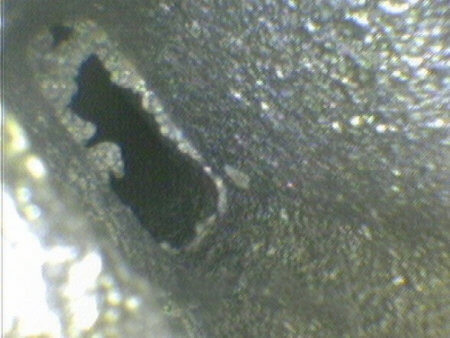 Bad part
Application
During the production of engine components by injection molding, blowhole inclusions can occur in concealed channels. These cause a narrowing of the channel and can lead to complete blockage. A proper flow of the corresponding medium is no longer guaranteed.
Until now, only a single-unit inspection by means of endoscopic measurement was possible. This was very time-consuming and could not be automated, taking into account short cycle times.
Challenge
To provide a measuring method that enables the component to be checked for inclusions in the shortest possible cycle times.
This is available with the electronic pressure regulator type Vögtlin red-y smart GSP. This makes it possible, by means of a given test pressure and measurement of the flow rate, to make a statement about the constriction or occlusion of the component. This makes it possible to differentiate between good and bad parts in a very short cycle time.
Solution
Vögtlin electronic pressure regulator with pressure transmitter.
Customer first performs a leak test for the entire system. Good part is determined by endoscopic examination and designated as "master part" for the test. Now the flow rate at test pressure 30 mbar g is determined. This value is used as a guide value for the assessment of the other series parts to be tested.
Depending on the size of any shrinkage cavities that may be present, there is a small to significant drop in the flow rate at a constant test pressure. This makes it possible to reliably test cavities/channels that are difficult to access in a cost-effective and effective manner.
Key features
Pressure regulator with flow measurement/limitation
Flow regulator with pressure measurement
High repeatability and reliability
Safe and fast control
Compact unit with high-quality components
MEMS sensor technology
Interfaces
Analog
Modbus RTU
Profibus DP-V0/DP-V1
Profinet
EtherCAT
EtherNet/IP
Recommended Products: