VA-Meter and High-Precision Mass Flow Meter for Gases
Variable area flowmeters for plant and apparatus construction are just as popular as ever. The numerous advantages in daily practice are convincing: cost-effective purchase, simple installation and handling, maintenance-free and independent operation.
Certain applications require measurement accuracy, with respect to pressure and temperature independence, which cannot be achieved with conventional variable area flowmeters. This is where the red-y compact 2 thermal mass flow meters come into their own. Alongside the advantages of the variable area flowmeters, the devices offer extremely precise and rapid measurement with digital CMOS sensors and run independent of mains electricity thanks to battery power.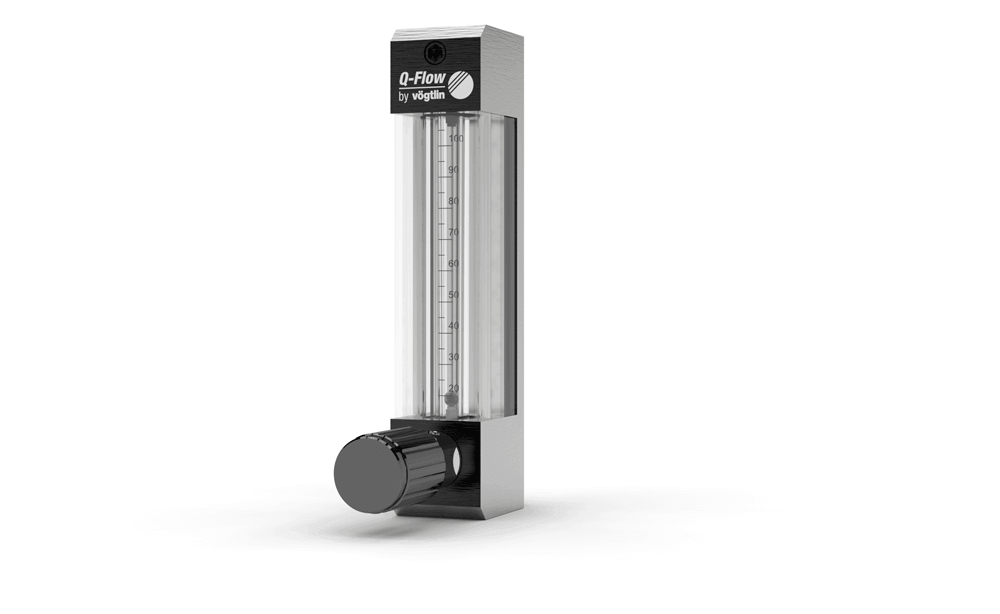 Reasonable and secure:
Variable Area Flowmeters
Q-Flow
| | |
| --- | --- |
| Media | Gases |
| Accuracy | +/- 5% of full scale |
| Turndown ratio | 1 : 10 |
| Measuring ranges | from 60 mln/min up to 50 ln/min |
| Insensitive to pressure | NO |
| Insensitive to temperature | NO |
| Scale | Direct reading or mm scale |
| Calibration | Air |
| Manual Valve | YES |
| Totalizer | NO |
| Alarm functions | NO |
| Display of Reading | Float in measuring glass |
| Mounting position | Vertical |
| Supply | Mechanical Device |
| Body Materials | Aluminum or stainless steel |
| Seals | FKM, EPDM or FFKM |
MORE INFORMATION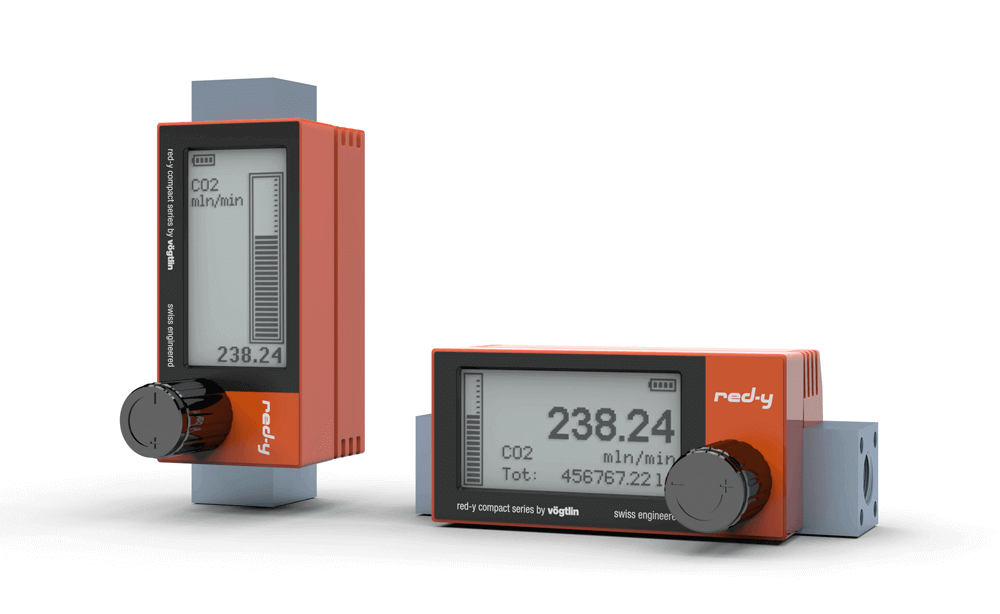 Digital advantage:
Battery powered Mass Flow Meters
red-y compact 2 series
Media
Gases
Accuracy
+/- 1% of full scale
Turndown ratio
1 : 1000
Measuring ranges*
from 1 mln/min up to 450 ln/min
*For air and N2. For other gases flow can be significant bigger or smaller
Insensitive to pressure
YES
Insensitive to temperature
YES
Scale
Direct reading
Calibration
Real Gas
Manual Valve
YES (optional)
Totalizer
YES
Alarm functions
YES (integrated)
Display of Reading
Touch-Display with automatic
screen position adjustment
Mounting position
Any position
Supply
Battery, Micro-USB or 24 Vdc
Body Materials
Aluminum or stainless steel
Seals
FKM or EPDM
MORE INFORMATION